Coated Denim Care
Welcome to the official L'AGENCE Coated Denim Care guide. It's no secret that you have great taste and we're here to help you protect your wardrobe investment with three straightforward techniques. A specialized process is used to create our coated denim's lustrous look, therefore to preserve paramount shine, these pieces cannot be washed with traditional methods or exposed to heat via dry-cleaning. Luckily, with average wear, Coated Denim requires only minimal care. Below, we break down the best methods and they are as easy as 1, 2, 3.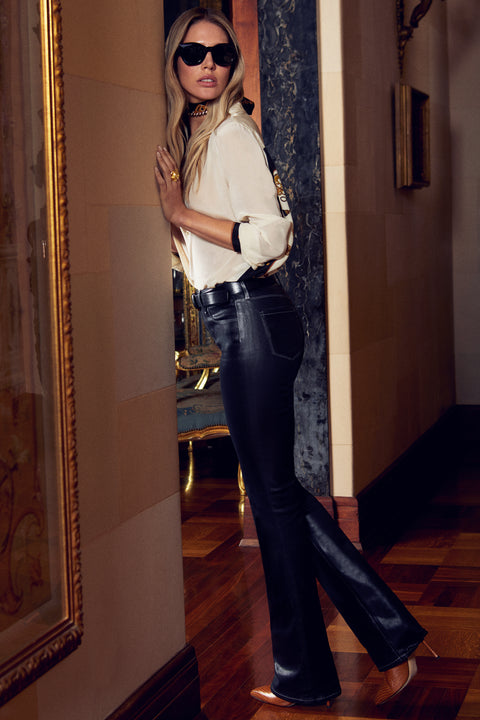 Method 1
Turn your coated garment inside out and apply an antibacterial fabric spray only on the uncoated interior of your denim. A light misting is all that is necessary. Allow the denim time to air dry, then it is ready to wear.
Method 2
Fold your denim and place it into a garment bag or other protective covering, then simply set in the freezer for a minimum of 24 hours. This method is superior for deodorizing and refreshing coated jeans. Once the allotted time has passed, remove the item from the freezer, allow it to return to room temperature and it is ready to wear.
Method 3
If a more thorough cleaning is required, take the garment to a professional apparel cleaner for spot treatment only. Any attempt to self-spot clean is not advised to avoid any chemicals which may damage the coating.
After any wear or cleaning using the techniques above, store your Coated Denim folded in a closet or drawer. Avoid hangers that could weaken the integrity of the coating. To avoid degradation of the coating treatment, do not store Coated Denim in a plastic bag.
SHOP COATED DENIM